Fox Drinks
Fox Drinks is a young Luxembourgish start-up that develops and sells full flavored & calorie reduced beers that bear the same alcoholic content than average beers. Their initial product is FOX Premium Pils – the first "low carb" lager beer in Luxembourg. Fox Premium Pils is brewed in Luxembourg 🇱🇺 & Belgium 🇧🇪. Best enjoyed ice-cold, straight from the bottle.
Where to buy
Do you want to be clever as a fox and enjoy a quality beer without unnecessary calories carbohydrates and sugars? Shop online or find it at all good supermarkets in Luxembourg.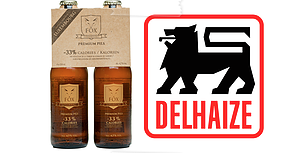 Get your code
17% members discount
The Car'tell members get a 17% discount on all online orders.
Find your promotional code in our members area.
Get your code